Dissatisfaction with democracy and capitalism is growing. A recent poll found that 20 percent of young Americans support the abolition of private property and three-quarters are likely to vote for a socialist candidate.[1]
While globalisation has delivered unprecedented economic growth, a rise in living standards almost everywhere has masked a concentration of wealth that matches, or even exceeds, the Gilded Age of the late 19th Century.[2] The pandemic has only exacerbated this inequality. Oxfam reports that from March to December 2020, global billionaires increased their wealth by US$3.9 trillion. The world's richest 1 percent now own 43.4 percent of all wealth.[3]
COVID-19 was also a factor in declining global freedom for the fifteenth straight year, as dictatorships exploited the crisis to trample opposition and consolidate their power. Some democracies overreached, legislating new surveillance powers and discriminatory restrictions on freedoms of movement and assembly in contravention of their stated values.
As a result, countries that experienced deteriorating levels of freedom in 2021 outnumbered those with improving levels by the largest margin recorded since the negative trend began in 2006. Freedom House captures it in a phase: the long democratic recession is deepening.[4] Populist politicians on the far left and right have flourished in the wake of this declining social contract, promising illusory fixes to complex challenges like inequality, automation, globalisation and immigration.
The Reawakening of Business with Purpose
Business has generally responded more effectively to changing social norms as compared to the government or the media, as evidenced in the 2021 Edelman Trust Barometer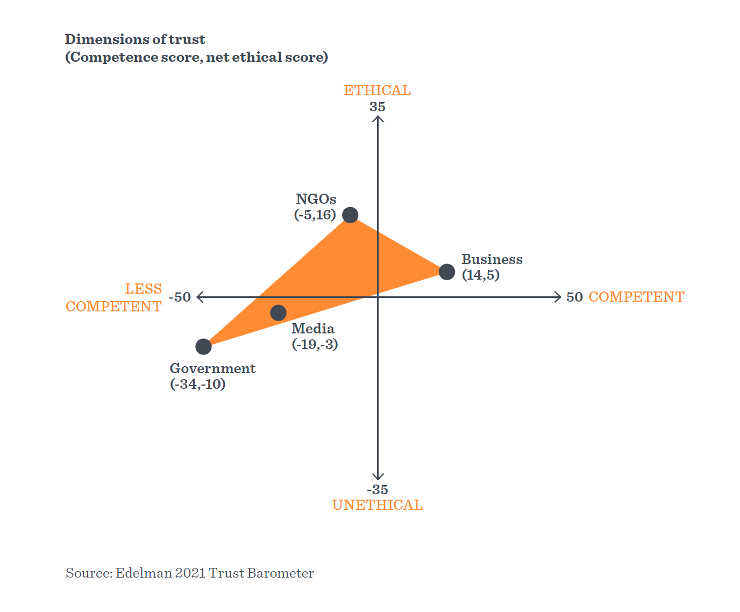 Bitcoin as a Tool of Social and Political Change
Decentralised, democratic and resistant to censorship, Bitcoin is seen by adherents as a way to undermine the entrenched interests of the political and economic establishment. In addition, its spectacular rise after 2009 provided millennials, overrepresented as early Bitcoin pioneers and investors, with access to their first profitable risk asset.
For these participants, the financial windfall came just at the right time, because stimulus-fuelled gains in shares and property throughout the 2010s disproportionately enriched an already wealthy older generation. Satoshi Nakamoto's genius helped square the ledger, offering financial freedom and a new conception of a global financial system to thousands – then millions – of young adopters.
Bitcoin's status as a tool of social and political change remains to this day. Advocates see a superior alternative to a legacy financial system built on credit expansion, as well as a unique opportunity to erode the expanding power of surveillance states.
The prominence of Bitcoin – and by extension Bitcoin mining – as a safeguard against central bank overreach and tyrannical government remains a compelling strength and opportunity. For some evangelists, it's reason enough to support the industry in perpetuity. In recent months, however, media coverage of Bitcoin mining's growing carbon footprint, alongside the development of greener cryptocurrencies, has eroded some of this standing among young people, who overwhelmingly consider climate change to be the most important threat of their lifetimes.[7]
WE ARE LIVE

NASDAQ: MIGI
Mawson is listed on Nasdaq under the ticker MIGI, giving investors of all sizes easy access to the performance of digital mining.
This may be because of the tighter feedback loop that exists between companies and their stakeholders. Customers, employees, and investors, in particular, have shown a growing interest in rewarding purpose-led businesses, alongside a willingness to punish those focused on the short-term interests of insiders and shareholders alone.
Clarity of purpose is directly correlated with financial performance. Research shows that purpose-driven brands achieve more than twice the brand-value growth of brands that focus purely on profit generation.[5]
Under 40s overwhelmingly favour purpose-led businesses in their consumption and investment decisions. A recent global survey by British advisory firm deVere Group found that 77 percent of millennial investors ranked ESG concerns as their top priority when considering investment opportunities, far above anticipated returns (10 percent).[6] No previous generation has thought like this. It marks a radical – and likely permanent – shift in how companies must think about attracting, retaining and allocating capital.
Megatrend Summary: Trust in Institutions
Trust in capitalism and liberal democracy is at a generational low – authoritarianism is rising.
Business is trusted more than government or the media and is evolving to meet the purpose-driven expectations of younger generations.
Bitcoin is seen as a tool of social and political change. But its growing carbon footprint is undermining this status with younger generations, who prioritise climate change above all other social and political issues.
GET IN TOUCH

NASDAQ: MIGI
Contact us today and learn how Mawson can design a digital assets management program tailored to the specific needs of you and your enterprise.